Drama
What A Carry On…..
At the end of Spring Term 2004, Trinity School was the venue for "Carry On Up The Beanstalk", an Eggstraordinary, Eggciting, Easter Eggstravaganza. This musical pantomime was staged in order to raise money for Macmillan Cancer Relief. The musical was written, produced and directed by Dr. Shanthi Paramothayan. The local press printed a newspaper article detailing the musical.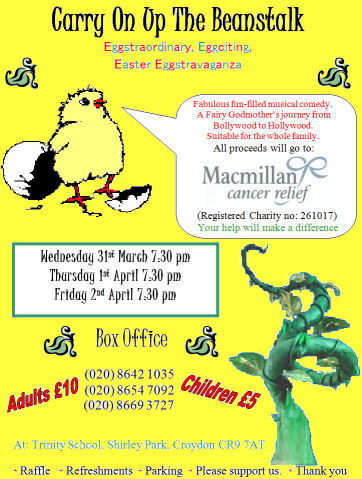 A total of 90 adults and children participated in the show as actors, singers, dancers and musicians as well as helping back stage. Many of those involved were pupils at Trinity School, some parents and members of the Mitre Singers. Performers from Nonsuch, Sutton High and Croydon Tamil Schools and from as far away as Brighton took part.
The school was packed on the Friday night and the total audience for the three nights reached 1000. The total amount raised for Macmillan Cancer Relief was £15, 602. Together with other donations, fund-raising events and gift aid the total raised was £17,000. The money was used towards funding a new Haematology Macmillan Nurse.