Current Job & Mini Biography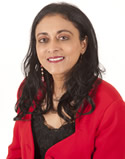 Dr. Shanthi Paramothayan has a degree in Medical Biochemistry and a PhD from the University of Cambridge. Her undergraduate medical training was undertaken at St. Bartholomew's Hospital Medical School, University of London. She qualified in 1993 with several academic prizes and with Distinction in Medicine. After completing her MRCP at first attempt (1996) she trained as a Physician, specialising in Respiratory Medicine. She trained for several years in leading hospitals including St. George's Hospital and the Royal Brompton Hospital.
Dr. Paramothayan is a Consultant Respiratory Physician at Medway Maritime NHS Foundation Trust and the asthma lead. She is a Senior Lecturer in Medical Education and Year 3 Module Lead for Medicine at Kent and Medway Medical School (KMMS).
Dr. Paramothayan completed her training in Respiratory and General Medicine in 2001. Dr. Paramothayan worked as a Consultant Respiratory Physician at St.Helier University Hospital from 2004 - July 2018.
At St. Helier University Hospital she had responsibility for the care of medical in patients and for training junior doctors and medical students.
She worked closely with the Royal Marsden Hospital and with the Royal Brompton Hospital.
She has an interest and expertise in the management of patients with:
Asthma
Chronic Obstructive Pulmonary Disease (COPD)
Bronchiectasis
Interstitial Lung Disease
Sarcoidosis
Lung Cancer
Obstructive Sleep Apnoea
Pulmonary tuberculosis
Pleural Disease
Pulmonary embolism
Respiratory Failure
She is an excellent bronchoscopist. undertaking all procedures, including transbronchial biopsies. She undertakes medico-legal work and is an expert witness.